After a serious car accident, it can feel like your whole world has turned upside down. You may feel like there is no way out of the difficult situation in which you find yourself. However, there are steps you can take to get your life back on track, one of which is to apply for a car accident loan in Florida.
It is quick and easy to apply for a Florida car accident loan, so don't hesitate to get started. At Silver Dollar Financial, we have helped countless car accident victims get the loan support they need to hold them over during this difficult time. Contact us today to start your free application.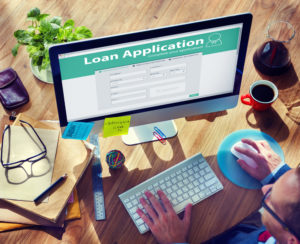 A person filling out an online loan application. Discover whether you qualify for a Florida car accident loan.
Who Can Apply for Pre-Settlement Funding in Florida?
A car accident loan is a potential option for anyone who suffered damages in a car accident where another party was at fault. Whether your application gets accepted or not will depend on the strength of your case. If, after reviewing your situation, the lender feels you have a strong chance of recovering compensation from the liable party, your application will be approved.
You can increase your chances of recovering compensation and qualifying for a loan by hiring a personal injury lawyer. Since a lawyer can greatly improve your odds of winning your case, a lender will be far more likely to loan you money if you have legal representation.
Is Florida Legal Funding Right for Me?
Whether a car accident loan is right for your situation primarily depends on the severity of your accident and how much money you have in savings. If your accident is mild or you have plenty of money set aside to cover all the additional costs you will accrue, you can probably get by without a car accident loan. Otherwise, this loan might be your best path forward.
The long-term solution to money problems brought about by a car accident is recovering compensation from an insurance company or directly from the at-fault party. Unfortunately, the process of doing so can take months or even years. 
A car accident loan can help you in the meantime. It can give you the money you need to keep up with all of your expenses while you wait for compensation.
You Can Apply for Florida Pre-Settlement Funding Risk-Free
When you apply for a car accident loan, you don't have to worry about the things people worry about with most other types of loans. The lending company assumes all of the risk. If you don't recover compensation for your car accident, you won't have to repay the loan.
Because of this, the lending company is unlikely to grant you the loan unless there are very strong odds that you will achieve a favorable result from your car accident case.
The Car Accident Loan Application Process Is Simple
Applying for a car accident loan with Silver Dollar Financial is easy. All you need to do is provide us with a few details about you and your case, and we'll take it from there. We will review your situation and determine whether you qualify for a car accident loan. If eligible, we will approve your application in as few as 24 hours.
If your application is accepted, you could receive a loan of up to $100,000. The application is free, so don't hesitate to reach out to us today to get started.
Insurance Companies Will Try to Take Advantage of You
Insurance companies will do everything they can to deny or undervalue a claim. They know that you are at your most vulnerable immediately after an accident before you have had the opportunity to hire legal counsel. At this time, you will likely be shaken up by the accident and not thinking clearly. 
If you are injured, you could be facing a growing stack of medical bills and uncertainty about when you will be able to return to work. Your financial obligations can feel insurmountable. The insurance company will choose this moment to sweep in and offer you a settlement that will give you the money you need to pay off your current costs. 
While it may seem like a large amount of money at the time, it is likely a small percentage of what you will need to cover your long-term expenses. By accepting the deal, you waive your right to further compensation. A car accident loan provides you with the money you need now while still pursuing the full value of your claim all the way to the courtroom if needed.
A Car Accident Loan Can Help Cover All of Your Expenses
A car accident loan can help you with any expenses that arise as a result of your accident. You can use the money to pay for repair costs for any property damage as well as medical treatment. If an injury forces you to miss work, your loan can also cover lost wages so that you can keep up with everyday expenses, like:
Housing expenses

Utilities

Car payments

Gas

Food

Childcare

Cell phone
Apply for a Florida Car Accident Loan Today
At Silver Dollar Financial, we aim to give car accident victims options after a crash. We provide car accident loans so that you can keep your financial situation stable while you wait for compensation from the liable party.
Give us a call or fill out our online contact form to begin the application process today. We can help get you a loan even if you have a poor credit history. The application is free, so don't hesitate to reach out to us today.